A History of the Espadrille
The espadrille hasn't always been a summer fashion staple. Originally crafted in the Occitania and Catalonia regions of France and Spain, its name derives from 'esparto', the species of plant that was braided to create its iconic sole. Designed as an easy-to-wear utility shoe in canvas with a jute rope sole, it was worn not only by the King of Aragon's infantry in thirteenth century but also by mine workers and priests. The shoe became synonymous with the Catalan national dance, Sardana, where dancers wore espadrilles with ribbon ties around the shin, known as 'Espardenya'.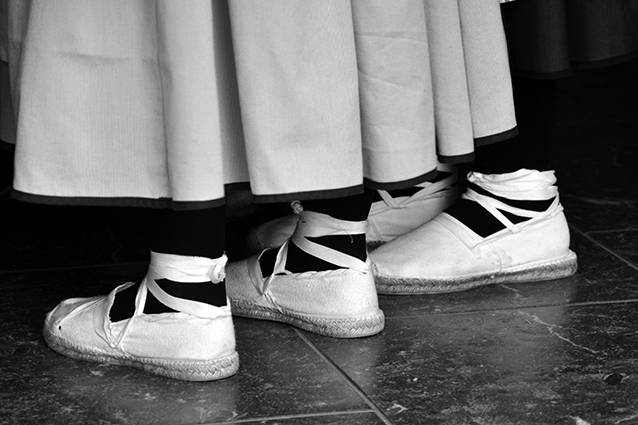 Traditional Espadrilles as worn in the Alps, c.1900
Worn by men and women in the Pyrenees, the style soon caught on across Europe and became widely known as a warm weather essential due to its flexible sole and lightweight feel. Surrealist artist Salvador Dali was often photographed in a pair of black ankle lacing espadrilles and JFK sported a similar pair for a trip around the Mediterranean.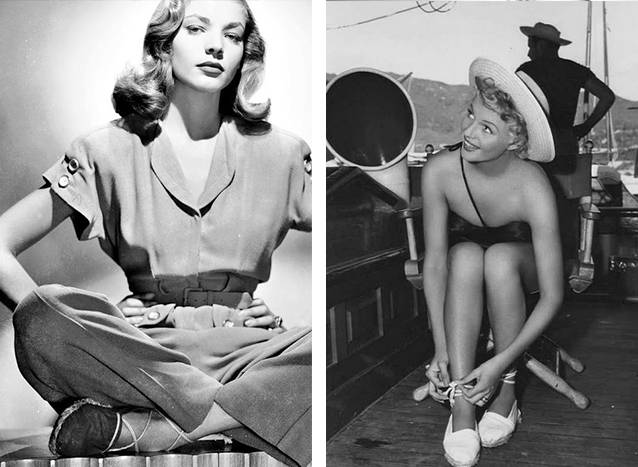 Lauren Bacall in The Key Largo / Rita Hayworth in The Lady From Shanghai
The espadrille reached widespread popularity around the world in the 1940s, making silver screen appearances on the most glamorous leading ladies of the time. Rita Hayworth enchanted in a classic white pair in 1947's The Lady From Shanghai, whilst style icon Lauren Bacall teamed her own with a crisp white shirt and midi skirt in the 1948 classic, Key Largo. In the early 1970s, fashion designer Yves Saint Laurent visited a trade show in Paris and met the Spanish manufacturer Castañer, from whom he commissioned the first ever wedge espadrille. The style became an instant hit and new interpretations can be seen on the catwalk every Spring Summer season. For Spring Summer 2015, we've created fresh new variations on the classic style. We caught up with Rebecca and Katsura from our Accessories team to hear all about our latest espadrilles: "The essential part of the traditional espadrille is the quality of the rope used to make the soles. For Jigsaw espadrilles we use the highest quality jute, which is 100% bio-degradable & recyclable and therefore environmentally friendly."

"The sole of the espadrille is traditionally sewn by hand on a special bench called 'banco Alpargatero', which is the method in which our Olivia Espadrilles were made. For added durability and practicality, Jigsaw espadrilles have a rubber sole which will help protect from rain and day to day wear whilst also adding additional comfort. Our espadrilles' soles are authentic and are all made in Spain."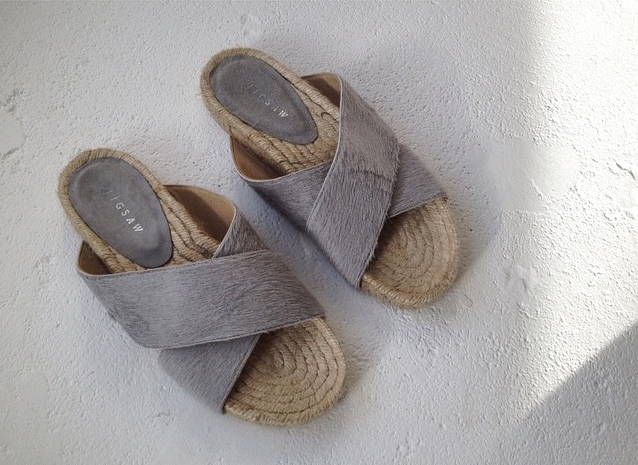 "We love the Olivia Slide Espadrille which has a great moulded foot bed which is unique in the market, which gives great comfort and will only improve with wear. It's a great style to dress up or down and comes in soft leather, kid suede and calf hair." Shop new season espadrilles in store and online.